2017 $5 FINE SILVER 2-COIN SET 30TH ANNIVERSARY OF THE SILVER MAPLE LEAF
SKU:

UPC:
Description
Unchanged since the very first issue in 1988, the solitary maple leaf that adorns the Silver Maple Leaf (SML) coin is widely regarded as a symbol for unparalleled artistry, craftsmanship and value. This signature design is given the royal treatment on these two fine silver coins, as the Royal Canadian Mint celebrates the 30th anniversary of one of the world's most sought-after bullion offerings.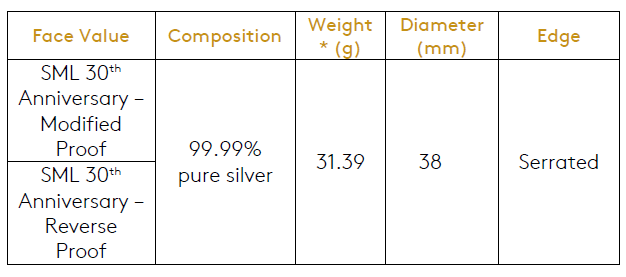 PRODUCT SPECIFICATIONS
SRP: $189.95
Item Number: 164145
UPC: 6-23932-08840-5
Mintage: 5,000
Finish: Modified Proof and Modified Reverse Proof
Packaging: Maroon clamshell with black beauty box
SPECIAL FEATURES:
A SPECIAL ANNIVERSARY: The Royal Canadian Mint proudly celebrates 30 years of one of the world's most sought-after bullion coins, by re-creating the popular SML as a two coin set.
DOUBLING UP ON SILVER: The signature symbol of Canada, the iconic maple leaf is exquisitely engraved in two 1-once coins of .9999 fine silver.
AN EYE-CATCHING FEATURE: Filling the field on the reverse and obverse, the repeating pattern of a maple leaf with the number "30" is a visually unique way of commemorating this special anniversary. The laser-engraved pattern diffracts light, creating a wondrous hologram-like effect that adds a luminous quality to the design.
With mintage set to 5,000, this beautiful keepsake set has a beauty of its own and may be just as sought-after as the SML itself.
The coins are beautifully crafted in two different finishes; one in modified proof and one in reverse proof.
DESIGN:
These two coins honours the 30 years of history through its enhanced re-creation of the Silver Maple Leaf (SML) bullion coin. The reverse designs feature the now-iconic image of a single maple leaf, whose superb shine and intricately etched details have remained unchanged since the SML's debut in 1988. The fields are filled with a repeating pattern of a micro-sized maple leaf with the number "30". This background pattern echoes one of the SML's security features, and its unique way of diffracting light results in a hologram-like effect that adds to the beauty of this extraordinary keepsake. The obverses feature the effigy of Her Majesty Queen Elizabeth II by Susanna Blunt.
View All
Close