Description
The Legacy of the Dime set is a unique retrospective look at Canada's 10-cent circulation coin through the years, as struck by the Royal Canadian Mint. More than twice the size of the original issue, these selectively gold-plated pieces are an enduring tribute to the five designs that have graced the diminutive-sized canvas, upon which history itself has been etched.
PRODUCT SPECIFICATIONS
SRP: $709.95
Item Number: 164046
UPC: 6-23932-08827-6
Mintage: 3,000
Face Value: 10-cent (each)
Packaging: Wood case with a black beauty box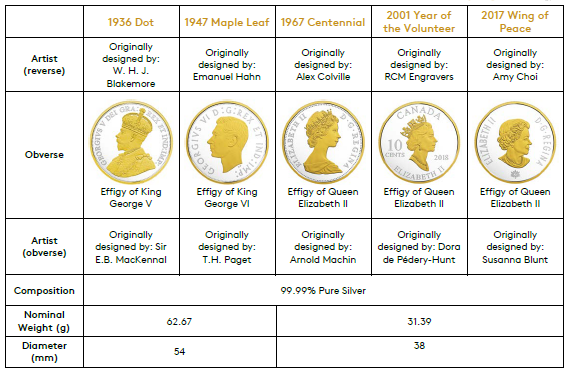 SPECIAL FEATURES:
A SWEEPING RETROSPECTIVE: This five-coin Legacy of the Dime series traces the history and evolution of Canada's 10-cent circulation coins issued by the Royal Canadian Mint.
A MODERN TRIBUTE TO PIECES OF HISTORY: All five reverse designs are beautifully re-created here in 99.99% pure silver—including two 2 oz. replicas of 10-cent coins that came to be amid unusual circumstances.
HISTORIC ART, MODERN-DAY CRAFTSMANSHIP: While the iconic art is unchanged (save for the updated year), each design is enhanced by the use of modern finishes that further highlight the sculpted elements.
TWO SIDES OF THE STORY: For added historical accuracy, each reverse design is paired with its original obverse.
LARGER-THAN-LIFE: Each coin in this set is at least twice the size of the original issue. Brought to life on a larger scale than ever (38 mm and 54 mm diameters), every detail in these engraved designs catches the eye and brings renewed appreciation for these familiar images.
DESIGN:
All five coins in this set are masterfully crafted in 99.99% pure silver, while selective gold plating highlights the engraved relief on both the obverse and reverse.
Reproduced as a 2 oz. fine silver coin, the exceptionally rare 1936 Dot 10-Cent coin features W. H. J. Blakemore's modified version of an original design by L.C. Wyon. Topped by St. Edward's Crown, the crossed maple bough is a fixture on all Canadian 10-cent coins issued between 1858 and 1936. A small dot beneath the tied ribbon is the identifying mark of a coin struck with the old obverse during the transition from the reign of King George V to King George VI. The obverse features the effigy of King George V by Sir E. B. Mackennal.
Also reproduced as a 2 oz. fine silver coin is the 1947 Maple Leaf 10-Cent coin. The reverse features Emanuel Hahn's depiction of the famous Nova Scotia schooner, Bluenose, under sail. On the obverse, the effigy of King George VI by T. H. Paget includes the Royal Title GEORGIVS VI D:G:REX ET IND:IMP, which became outdated once India gained its independence on August 15, 1947. Included in this modern-day tribute is the small maple leaf that was added next to the year, to denote coins struck with the old obverse while the Royal Canadian Mint awaited new master tooling.
View All
Close